Mangalore
Falcon Group of institutions
---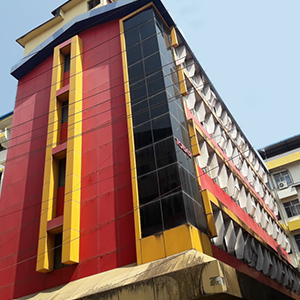 Shaheen PU College is one of the best colleges and has PU colleges in Bangalore. Bangalore the "Silicon Valley and the Garden City of India" is the second fastest-growing major metropolis in India. With over 1000 IT companies including more than 150 multinational giants, Bangalore is one the top hi-tech city in the world. Bangalore has been a renowned center of learning, with many famous professional colleges, high schools, colleges, and universities. There are 5000+ Schools & Colleges, 66 Engineering Colleges in the district and 9 Universities. Shaheen PU college is one of the top PU College with a Women's PU College in Bangalore.
Classrooms with audio-visual facility Library Transportation facility provided Residential Facility offered for JEE Main and NEET students Total of 140 seats are meant for boys and 40 seats for girls
PCMB + NEET . PCMC + JEE . CEBA + CA-CPT . KCET/ NEET Crackathon . NEET Long Term
HBT Towers Opposite Roopa Hotel, near South India Bank, Hampankatta, Mangalore, Karnataka 575001
Hostel Visiting Hours Mon - Sat: 5.00pm to 6.00pm Sunday: 9.00am to 1.00pm | 2.00pm to 6.00pm
Principal's Message
"Human life is a privilege" and we are all blessed with it. Quality education is one of the biggest contributing factor in a human being's life.
Pre-University education is an important space for students to prepare themselves for the future. The future needs self-reliant and self aware citizens proficient in navigating technology and fueling socioeconomic growth for all. Students today, need to reflect on themselves regularly and develop a vision for self
Here at Falcon PU College, we first shortlist students based on aptitude in comparison with marks alone. This itself is an important contribution from the house of Falcon.
Falcon PU College motivates children to dream big, prepares them to achieve bigger and have the fruit they achieve.
Presently we are rolling up our sleeves for yet another batch of 21st century learners in the new batch of 2020, who already have dreams and are enroute to achieving them. There is nothing too big for them to achieve. Follow them as their goal posts are continually evolving. The impact of the app economy is testimony to how quickly the choices and opportunities for the youth are changing. It is essential today to network, make connections, blog and podcast and yet be responsible citizens of the digital world.
Falcon PU College promotes welfare of its students and expects its strong team of staff to share it's commitment. We welcome participation from all sections of the community regardless of gender, race, religion, disability or age. We measure success by the growth of each individual who work with us and in each milestone progressed by a student.
I thank our Parents for having trust in our vision oriented management.
To us, students are the greatest investment of India
Falcon Pu College Mangalore
Falcon Pu college Mangalore, Every student's journey is exclusive, and that we contemplate it our obligation to confirm you enjoy several opportunities to stretch and grow throughout your time here. to achieve this, we provide a diverse range of programs and services clustered as follows: info, Guidance, Community, and Experiences. Our exceptionally experienced team collaborates with college, staff, students, community partners, and alumni to style and deliver educational programs and services that support you to achieve your goals, thrive in your educational pursuits, develop lasting friendships, and expand your knowledge, skills, and talents. However, our greatest source of pride remains the students and alumni who connect with us years when graduation to apprise us how important their experience at Falcon was, and also the role that we compete in supporting them to pursue their passions and live lives of purpose-Falcon Pu College Mangalore.
Falcon Pu college Mangalore, For those students who are interested in rating high marks in NEET, the NEET program offered by Falcon will prove to be extremely helpful. The teachers at the campus are well-educated and have many years of experience within the teaching field. The training offered by the teachers at Shaheen's Falcon allows students to aim at different entrance exams conducted by private colleges. The teaching atmosphere at Falcon help students tackle the pressure of competitive examination with ease